Welcome to FRowResource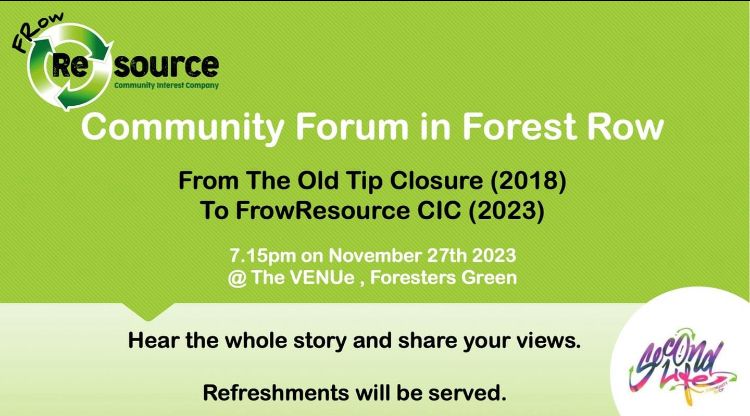 FrowResource is a not-for-profit Community Interest Company created to support the community of Forest Row in achieving zero-waste by using visionary yet tried and tested progressive recycling strategies to rethink our consumption, our relationship with things we no longer need and our relationship with the planet.
The critical aims of this venture for the community:
To create a zero-waste community
To create local employment and apprenticeships
To provide financial support to local initiatives in the village, in particular, re-use, recycling, repair and up-cycling activities
To contribute to the village retail and community life.
We have found a great shop premises, two wonderful shop managers and we opened the community shop, taking donations a year ago. We resell, reuse or recycle all the precious items that still have life in them. The shop will become a hub for a range of activities that help us drive towards being a zero waste village the first of these is our 2023 sponsorship scheme.
In our first year we have
accepted 22 tonnes of donations
supported our local community including Sussex Refugees, Local Schools, Ten Tiny Toes, Caring Through Crafting, Knights Homeless Charity, Foodbank Vouchers, Vouchers for members of the community fleeing conflict and Lingfield Care Home
recycled blister packs, batteries, bras, spectacles, knitting wool and unwanted fabric
We welcome ideas and suggestions on other ways in which FRow Resource and Second Life can help the community, please contact hello@frowresource.org.uk
A big thank you to everyone who has donated, sorted, recycled, reimagined, reworked and resold.
Open from Monday to Saturday every week from 10.00am to 4.00pm - please take donations to the rear entrance